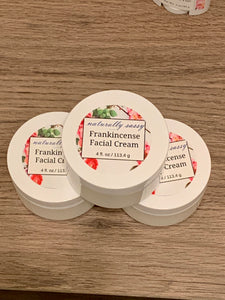 Frankincense Facial Cream
Regular price
Sale price
$6.00
---
Use this cream on your face and neck to soften and help replenish a healthy balance of natural oils. This cream absorbs quickly and is not greasy feeling. Great for both night time and day time use. Use under make-up or alone for a natural healthy looking face. Full of healthy organic oils and essential oils that are known for their health benefits and that help reduce the signs of aging.
Frankincense is an ancient oil teeming with beauty benefits which has been extensively used for a number of health purposes in Chinese and Ayurvedic medicine since 500 BC, from fading scars to fighting premature ageing. Known as the king of essential oils, in ancient times frankincense was considered to be one of the most valuable commodities. For this reason, pure frankincense was often referred to as 'liquid gold' and was a highly prized commodity for trade and commerce.

Frankincense can improve skin tone while also reducing the appearance of wrinkles. The oil may also help generate new skin cells.

Frankincense is great for oily skin and acne. Bbecause it's a natural astringent, it helps regulate sebum and stops your face looking like a hot mess by removing excess oil. Frankincense will soothe and reduce inflammation and can also help prevent acne forming thanks to the boswellic acids it contains which are capable of killing bacteria associated with acne.

It protects and tones, encourages skin regeneration, prevents wrinkles, fades and heals scars, and makes skin soft and glowy.

Known for its wrinkle-reducing superpowers…thanks to frankincense's cytophylactic properties, it stimulates cell regeneration and also protects older cells from free radical damage.

Weight: 4 oz.
Ingredients: Water, Avocado Oil, Emulsifying Wax, Sunflower Oil, Argan Oil, Vitamin E, Frankincense Essential Oil, Lavender Essential Oil, Optiphen